Drag queen story hours targeting children found to be prevalent in at least 27 cities in 20 states.
It was a tense and chaotic scene at the South Hill Public Library in Spokane, Washington, last Saturday, June 15, and now both sides in this controversy are preparing for a second round of the Drag Queen Story Hour, which targets toddlers and pre-teens.
An estimated 30 police officers descended on this small plot of public land Saturday to, in their words, "keep the peace." That involved camouflaged snipers perched on rooftops and a checkpoint at the library entrance where everyone entering was questioned about their allegiances: Those for the Drag Queen Story Hour were welcomed inside, those against were told to leave and go across the street with the protesters.
Irate mothers lined the street leading to the library holding signs and shouting slogans.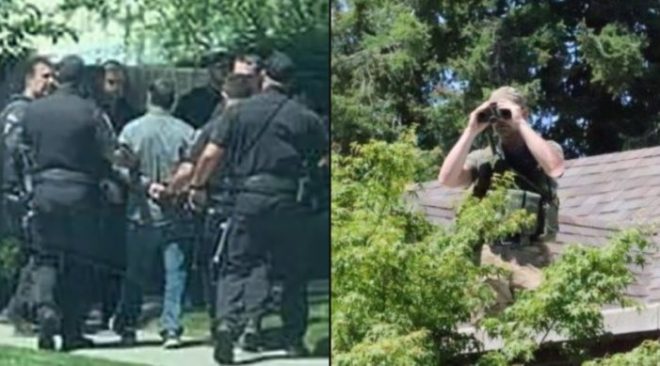 [Photo, above: Police lead a pastor away in handcuffs, left, and placed spotters and snipers on rooftops during the Drag Queen Story Hour in Spokane June 15, 2019.]
Inside, children danced and sang songs with a team of drag queens leading the day's featured event, the controversial Drag Queen Story Hour.
"Adult men in grotesque make-up, skimpy dresses, fake breasts and wigs gyrated, sang and mocked every single woman present," said Ann Bohach, leader of the 500 Mom Strong group, in an op-ed for Church Militant, a catholic publication.
You can read the flyer for the event below.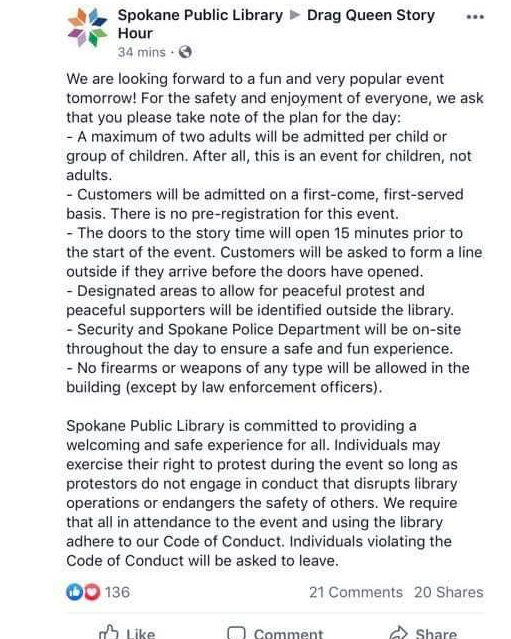 The people of God showed up, close to 200 of them, but they were outnumbered by at least two to one by citizens who supported the drag queens. One pastor was arrested when he refused an order to move across the street to a designated "free-speech zone" set up by police.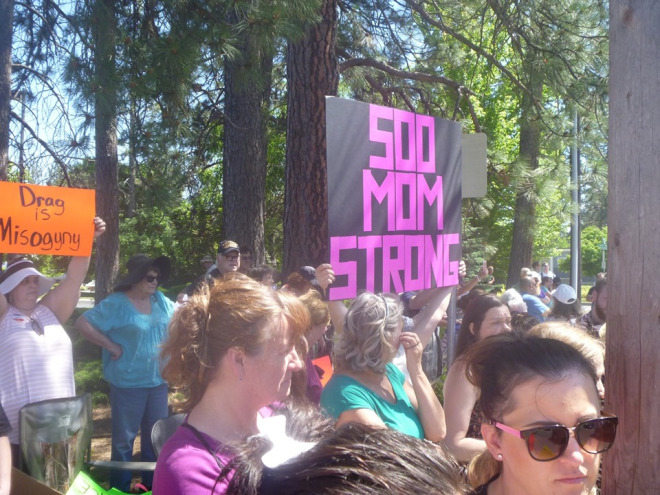 [Photo above: Spokane moms protest Drag Queen Story Hour at the public library Saturday, June 15, 2019. A repeat performance is set for this Saturday, June 22. Credit: 500 Mom Strong]
"I was troubled by some of the things I saw on both sides, quite frankly," said Ken Peters, one of the Spokane pastors who came to protest. "We want to represent Christ. So it's one thing to say the right thing. We can have His words but if they're not said in the right spirit we're kind of missing the exact bull's eye."
One man could be heard shouting: "You have a penis, you are an abomination to God!"
Ken Peters, pastor of the Covenant Church in Spokane, said he and his group were stationed under a big white tent.
"If you just show up and pray you are making a statement. A picture says a thousand words," he said. "I think it was Jim Anderson who said, I've never forgot this, 'You can't fight murder with the spirit of murder. You can't fight abortion with an abortive spirit. You can't fight raging hormones and raging demons with a spirit of rage. The enemy is all about rage. He rages against God. He rages against man. In the end he's going to continue to rage. He's a raging beast. That's why you're not qualified to be an elder in the Church of Christ if you have a problem with having fits of rage. I plead to all the Christians. Let's not be like the world. Lets' be different from the world in our message, and our spirit."
Pastor Bill Fowler witnessed the arrest of fellow pastor Afhsin Yaghtin.
"I'm just walking into this and I'm baffled by what I'm seeing," Fowler said. "They put their hands on my chest, they were not very friendly, and said 'back up.'"
You can watch a video of the pastor's arrest here. The pastor can be heard telling officers that he can remember a day, not so long ago, when a man dressed up as a woman telling sexually suggestive stories to children would be the one they would arrest. Now, those protesting such behavior get arrested.
"It's not that day, sir. It's not that day," the cop tells the pastor.
Yes, times have changed. But not without causing extreme division within communities like Spokane.
Police said they felt the show of force was justified because of the rhetoric they saw building on social media in the days leading up to the event.
The group 500 Mom Strong talked about a sit-in aimed at taking up space in the room reserved for the Drag Queen Story Hour.
"The spirit of the law enforcement, and I'm very pro law enforcement, was pretty antagonistic toward us," Fowler said. "They would tell us to stay on our side of the road, and we did, but there was a girl playing the trumpet on their side and she pointed it right at the speaker on our side and blew it as hard as she could, and they didn't say anything to any of those people, blowing horns and doing their best to drown out our speakers. They could have quieted all of them down and instead they just let 'em rip."
Despite the fact that some protesters just wanted to pray and do street preaching, not interfere with the event, Fowler said law enforcement lumped all protesters into the same category and forced them off of public property.
"It was overkill," he said.
Look for more of the same this Saturday, June 22, at 2 p.m., when an encore performance of the Drag Queen Story Hour for kids is scheduled at the downtown branch of Spokane Public Library.
Fowler said he saw children being used by adults to score points in their personal dispute with protesters.
"Many times we saw little kids maybe 7, 8, 9 years old, as they were being driven into the library parking lot by their parents, caregivers or whatever adult, and those kids were making obscene gestures at us," he said. "That was the most grievous part to me."
Another pastor, identified in his Facebook video only as "Pastor Gabe," said he, like Fowler, assembled not in a spirit of protest but of worship and prayer.
"This is not a protest. This is a counter worship service. This is our way of showing, there is such a thing as up, down, gravity," he said. "We have to have boundaries in this nation, and the LGBTs think we are saying, 'we hate you,' and that is not our message. Now there are some people out there who do have that message but that is not what we are saying."
Both sides are gearing up for another encounter Saturday.
Andrea Tate, a female who identifies as a male and dresses in drag, is the organizer of the Drag Queen Story Hour. She says her events are meant to further tolerance and "acceptance," but she has thrown down the gauntlet to any and all who dare to protest.
In an angry video recorded to Facebook live, Tate issued the following warning:
"My other performers are going to be dressed in pants and full f—ing shirts. It's not peaceful for you to take up the spaces that we carve out, so that we can't be seen and heard. We're not teaching these children to be sexual deviants and for you to spread that message all it does is show that you don't know what you're talking about. You don't know this community. You've clearly never spoken to someone that exists in this community. And you clearly don't understand your own book! Because the Jesus that I read about when I was in the church and whatever, did not do this. He would not tell people that they can't exist in a public space and do something that's selfless for kids, to learn how to be more accepting. He would not use his religion as an excuse to keep other people silent. You are trying to silence us. And I'm gonna tell you right now, boys, listen up! I'm telling you right now it isn't going to work…You will not win this!"
She went on to say that she would present her Drag Queen performance in the lobby, on the front lawn, in the parking lot, if that's what it takes to get her message out to the kids.
Interesting how people promoting evil always like to pull Jesus into the fray. Jesus is on their side.
Jesus, in fact, had many harsh words for the deceivers of his day. He called out the religious types who had malice and coldness in their hearts, but he saved some of his most stern rebukes for those who laid temptations before the young innocents. He said "If anyone causes one of these little ones who believe in Me to stumble it would be better for you to have a large millstone tied around your neck and be drowned in the depths of the sea." [Matthew 18:6]
SIGN THE PETITION to stop the 'drag queen story hours,' found to be targeting children in at least 27 cities in 20 states!
There were so many conflicting messages that were being preached at this event, enough to challenge an adult with a theology degree, let alone a poor child.
"It's really very confusing. There were so many different gospels being preached out there," Fowler observed. "You had the LGBTs who were saying what they thought Jesus would have said, what Jesus would do. You had one of the protest groups that said God hates sodomites, hates the sin and the sinner. The activists had their gospel, saying it was all about misogyny, and then we had our gospel. When your heart is truly to win souls to Christ and you're not hoping for the worst, you're hoping for grace instead of condemnation but at the same time you can't water it down, you preach the message Jesus preached and in the spirit he preached it."
You can watch a video of the event on Pastor Ken Peters' Facebook page.
Another good post about what happened came from eye-witness Brian Williams.
Anna Bohach created the 500-Mom Strong Facebook page and organized a protest. Her story can be read over at ChurchMilitant.com, where Bruce Walker put together a great piece on what it's like to encounter the wrath of radical LGBTQ activists.
So the pastors are asking more folks to come out this Saturday, at the downtown branch of the Spokane Public Library. They are asking the people of God to come in the right spirit, which is not a spirit of protest.
Do not match anger for anger. Just show up. Pray. Worship the one true God. Right there in the public space where, across the street, innocent minds will be initiated into the darkness of this age.
"That would be one thing if this were done at a private business. We don't have to patronize that business," Fowler said. "But this is the public library. Everyone shares the public library. That's their library but it's also the opponents of the Drag-Queen campaign's library."
Shahram Hadian, pastor of Truth in Love Ministries in the Spokane area, said radical LGBTQ activists seem intent on dividing communities. What could be more provocative than a drag queen show for children at a public library? That's why they have spread this same event to venues across the nation.
"That side was well organized, they had children, parents, it's just incredible," Hadian said.
They were on one side of the street, in what Hadian described as a carnival atmosphere, celebrating boys and girls, men and women who dress up and act as though they were members of the opposite sex.
Never mind that such behavior has been considered morally suspect since time immemorial [See Deuteronomy 22:5].
But it was the celebration of such behavior at a public library and the removal of a whole segment of the public citizenry from attendance that makes the Drag Queen Story Hour stand out, Hadian said.
"This is a sign to me that we are approaching what the Bible calls the days of Noah, because they're celebrating with balloons and songs and everything what to me is abuse of children," said Hadian, a former police officer. "Based on the videos posted by the other side of the story hour, where the drag queens were dancing with the kids and they were singing a song about drag – sick, sick, sick to the deepest level."
The drag queens could be heard in one video smuggled out of the event leading the children in a chant: "Drag for you, drag for me, drag is good. Drag is magic."
Pastor Peters said the liberal establishment in Spokane has gone out of its way to convince the public that no indoctrination of children was going on.
"That is absolutely false," he said. "They're pushing an agenda, it can be seen in the video. So I don't buy into 'oh we're just innocently reading a story.'
"They are pushing sexual ideas on our children," Peters said in a Facebook Live interview with a fellow Spokane pastor named Gabe. "I don't see any way of skirting around that. They are propagating sexual stuff and, I think, they ought to leave the kids alone. I think let's leave the kids out of all this massive immorality and confusion that our country is going through. Could we let kids just be innocent? I remember the days when you and I grew up, Gabe, when boys were boys and girls were girls and I didn't have to wonder if I was male or female or something in between. So I say we've got to keep this sexual stuff away from our kids. Let them be kids!"
According to the Advocate, a gay publication, drag itself is meant to provoke and crush society's view of what's "normal." [Again, we warn readers about obscene language]
"In many ways, the performance of drag itself is activism. Whether it's strutting down RuPaul's runway in the couture or standing silently on a street corner donning a cheap skirt and wig, drag is an inherent rejection of societal norms and conservative views on gender and sexuality. And it still courts controversy. When Peaches (a.k.a. Joshua Grannell) took her show Bearbarella to Northern Ireland, she was met by government officials who accused her of blasphemy and lewdness. "It was a huge reminder that 'Oh, right, I still stand for something,'" she says. "When we got a standing ovation in Northern Ireland, it wasn't because my Bearbarella show was brilliant — it's full of poppers and dildos and about a bear drag queen saving the universe — but it was because of what it stood for, which was, we're going to do whatever the f–k we want and we're going to be proud of this stupidity, grossness, and sexuality."
We see the same attitude of boastful destruction admitted towards the end of the 5-minute mini-documentary below, where an adult male dressed as a woman tells an 8-year-old boy in drag: "By the time you are 12, you are going to be a weapon of mass devastation."
One cannot familiarize themselves with the facts of this movement without sensing that it marks a pivotal transition to a new phase of American culture. Some, on the right, see it as just the latest signal that the moral collapse of society is at hand while those on the left see it as the long-awaited advent of a new, more wonderful phase of human evolution in which people are more tolerant, inclusive and "accepting" of each other's personal tastes and conduct. It's easy to see how the left's argument sounds alluring to those without a roadmap to show them where all this acceptance will lead.